Westward is the first installment of the Westward series.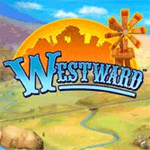 The game is a strategy game set in the Old West and revolves around a slew of characters making a name for themselves in various towns. These include Hope River, Lightning Bluff, and Paradise Falls. The main antagonist of the game is Doc Vostrikov, a Russian prospector who, along with his henchmen the Copperhead Gang, swindles these settlers.
The player controls various characters as they build up their settlements, defend themselves from bandits, and unlock new buildings. The story begins at Camp Chippewa, where new players are tutored. As the game progresses, the player must keep an eye out for bandits, plagues, and natural disasters. To fight bandits, the player must hire gunslingers from a saloon or a sheriff and deputies. The game contains many puns on Old West pop culture.
External Links
Edit